WELCOME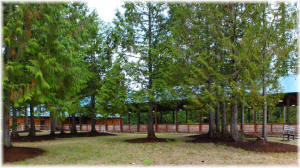 Welcome to Patterson Creek Equestrian Center (PCEC). We're located on 40 pristine acres in Redmond, WA surrounded by miles of manicured trails. PCEC is proud to be a premier full-service boarding and training facility for all levels of horses and riders.

Boarding and training availability: Boarding is currently full but we are happy to add you to a short wait list. Also, new haul-in students are welcome. Unfortunately, we do not have school/lesson horses.

Hiring update: We are not currently in need of farm staff but we are accepting resumes and may have a position opening up in 2018.

Please contact Leigh for more information on boarding, training, lessons or employment.


(Above: back of boarding barn and indoor arena)

Patterson Creek Equestrian Center is professionally managed and maintained. It offers incredible facilities for the horse including large stalls with runs, daily turnout in sand paddocks and grass fields (weather permitting), three feedings per day, and more.

For the rider, PCEC offers a choice of accomplished dressage and jumping instructors in addition to the incredible training facilities which include a covered arena (full-size dressage court) and a large outdoor jumping arena (with all-weather footing). Not to mention the endless miles of manicured trails for your exploration and conditioning.

We invite you to check out the rest of our website to learn more about PCEC. Plus, follow us on Facebook for the latest news and updates.

(Below: Leigh on Raffy at Five Points HT, Leigh on Dinero at YR Benefit HT and PCEC sign)